A Sacramento police officer was killed and a suspect was arrested after a shootout and an hourslong standoff at a north Sacramento home.
Officer Tara O'Sullivan, 26, died Wednesday night after being taken to UC Davis Medical Center, Sacramento Deputy Police Chief Dave Peletta said.
Advertisement
"Officer Tara O'Sullivan was shot and killed," Peletta said early Thursday morning. "She gave her young life while protecting our community."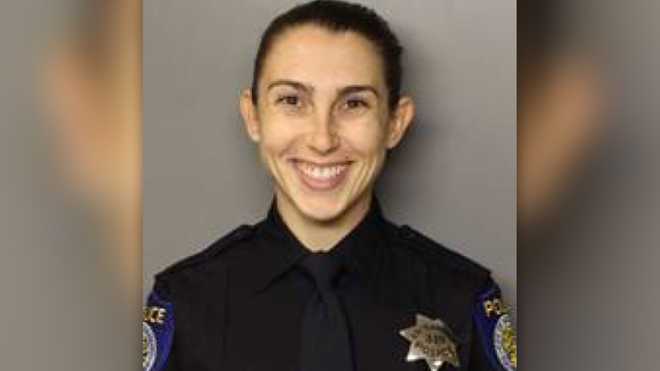 Sacramento Police Department
Adel Sambrano Ramos, 45, was arrested and booked into the Sacramento County Jail early Thursday morning on a felony murder charge in connection with O'Sullivan's death, Sacramento police said. He is not eligible for bail, jail records show.
THE DEADLY SHOOTING
The incident began around noon Wednesday after officers got reports of a disturbance between a man and a woman. Police said they talked to the woman at a home in the 3700 block of Esperanza Drive.
Around 5:40 p.m., police responded to a home in the 200 block of Redwood Avenue, near Edgewood Drive. They were asked to stand by while the woman gathered some belongings.
When they reached the property, the woman told officers that she needed to get items from a detached garage. Police said officers tried to enter the main house on the property, but it was boarded up and secured. They did not enter the main home on the property.
Five officers, including O'Sullivan, then made a plan to go and check out the garage before letting the woman enter it to gather her belongings. While approaching the garage around 6:10 p.m., police said Ramos opened fire on the officers from rear while he was inside the main home.
O'Sullivan was then shot and went down in a yard.
| MORE | Community mourns Sacramento officer who was gunned down
Police said the other officers were forced to take cover and couldn't get to O'Sullivan. The woman was able to get out safely, police said.
An armored vehicle was called to the scene to help get O'Sullivan and arrived around 6:50 p.m. Police said the armored vehicle got onto the property via an alley behind the property.
As the armored vehicle drove on to the yard, Ramos began shooting, eventually disabling it. Police said officers were close enough to O'Sullivan to grab her and run into the alley at 6:59 p.m.
O'Sullivan was then taken to the hospital.
Peletta said O'Sullivan underwent surgery. She was later pronounced dead.
"We're devastated tonight," Peletta said. "There are no words to convey the depth of sadness we feel or how heartbroken we are for our family, for our young, brave officer. The men and women of our department will continue to do our jobs to protect the community, and we will draw from the strength and courage of Tara. Our hearts are with Tara's family, whose pain can hardly be imagined."
THE STANDOFF
Police said after opening fire, Ramos barricaded himself inside the home. Officers then set up a perimeter around the house and evacuated nearby homes.
Police said between about 6:10 p.m. to 10:30 p.m., the suspect opened fire 30 times. Several times during the standoff, officers returned fire.
| MORE | Suspect in Sacramento officer's death has troubled past
SWAT and a crisis negotiation team were also at the scene.
"Throughout much of this incident, from the first time the suspect shot at our officers -- murdering Officer O'Sullivan -- at 6:10 p.m., he continued to fire at officers for over four hours," Sacramento Police Chief Daniel Hahn said.
"He typically shot rounds at officers every time he observed any sort of moment. He fired at the armored cars and officers multiple times."
Sometime during the standoff, negotiators were able to talk to Ramos, police said.
Several hours later, just before 2 a.m. Thursday, Ramos surrendered and was arrested.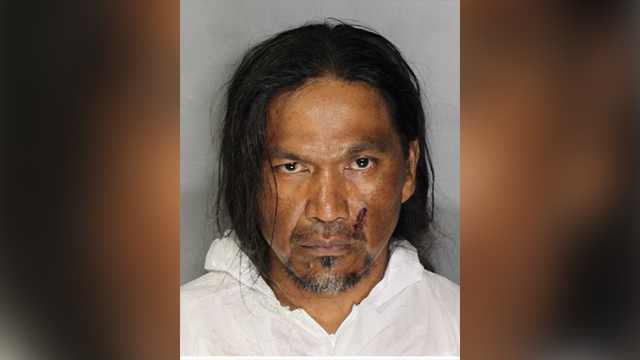 Sacramento Police Department
Adel Sambrano Ramos, 45
THE INVESTIGATION
During the search of the property Thursday and Friday, investigators found four firearms -- two assault rifles, one handgun and one shotgun -- strategically placed around the main home, police said. The suspect used all four guns during the hourslong standoff, investigators said. When they searched the detached garage, they found two other assault rifles.
"It is clear by the suspect's actions he was intent on murdering additional officers and was taking action to do just that, repeatedly shooting throughout much of the incident," Hahn said. "We now know that he had multiple weapons in multiple buildings on the property -- both handgun and rifles, along with numerous rounds of ammunition."
Hahn said the investigation into the shooting is ongoing. Officers are expected to be at the scene through the weekend.
"This was an ambush-style attack on Sacramento police officers that lasted for hours. Under the most dangerous and trying circumstances, our officers performed admirably," Hahn said. "The best proof we have this is the case is by knowing no additional officers were killed by the suspect, and no community members were injured or killed by the suspect. The facts as we know them today, that is amazing, because the suspect was truly intent on harming additional people."
Police said over the next several days, homicide detectives, internal affairs investigators and crime scene investigators will be at the scene to collect evidence. They will also be conducting an officer-involved shooting investigation with the Sacramento County District Attorney's Office, per department protocol.
Five officers reported firing their weapons during the standoff, police said. They each have three to five years of experience with the department. Police said the officers have been placed on administrative leave, which is standard protocol.