Police in Carrollton are looking for a hit-and-run driver who they say struck and killed a 54-year-old man crossing Belt Line Road Monday night.
The incident happened just before 9 p.m. in rainy, dark conditions. Authorities said Andre Hood had just stepped off a DART train at the Downtown Carrollton Station, when he was hit by a car. Police said the driver hit the brakes and then took off.
Hood lived in Carrollton, but he grew up in Dallas. His family described him as a hard worker, who was employed by a local moving company.
Hood's sister, Glinda Hood, said his death should have never happened.
Raw: 1 Person Dead After Hit-and-Run in Carrollton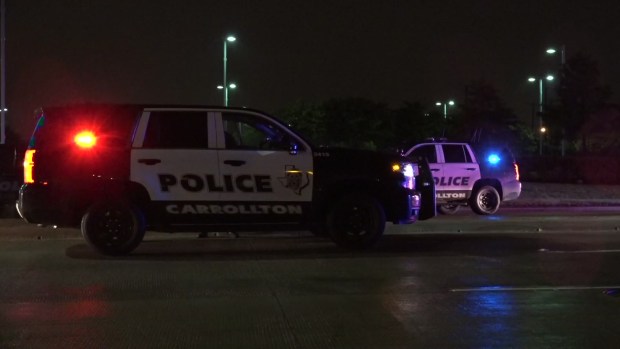 One person died after being hit by a vehicle in Carrollton early Tuesday morning, police said.
Police and fire responded about 10:30 p.m. to the 1000 block of westbound Belt Line Road for an auto-pedestrian crash.
The person was pronounced dead at the scene.
The driver who hit the person fled the scene in an unknown make and model. No other information was available.
(Published Tuesday, Oct. 16, 2018)
"To me, it felt like he was nothing," Glinda Hood said of the hit-and-run driver. "You thought he was trash. Why should you stop? And it's not fair."
Firefighters responding to an unrelated call found Andre Hood's body lying in the road. Police checked surveillance cameras in the area, but were only able to find one piece of low-quality video, which helped them determine the suspect was driving a car, possibly light-colored.
"We're appealing to anyone in the area to come forward if they might have any information that might help," said Jolene DeVito, spokesperson for Carrollton Police Department.
DeVito said investigators believed there were witnesses to the hit-and-run, but none have been found. Aside from tire tracks at the scene, there was not much evidence, she said.
"That's one of the strange parts about this," DeVito said of the investigation. "Normally, in an accident of this nature, there's going to be something left behind from the car. We have nothing of the sort from this case."
Andre Hood was one of seven siblings. He never married and had no children, but left behind several family members, including nieces and nephews.