Commercial lawyer Paul Rogerson handed out how-to-vote cards for Abbott in the 1994 by-election that sent him to Canberra, and has cast his own vote for him at every opportunity since. But not any more.
"He's become a destructive force within the Liberal Party," says Rogerson, who has bought himself a Vote Tony Out T-shirt and joined the Sunday morning democracy walks. "His actions, particularly the way in which he's conducted himself against Malcolm Turnbull, will most likely deliver a Shorten Labor government."
Abbott is adamant he didn't instigate last August's botched power grab by fellow right-winger Peter Dutton, which resulted in Turnbull's ousting as prime minister in favour of the then treasurer Scott Morrison. But many in his electorate believe he pulled the strings, seeking vengeance for his own dethronement three years earlier.
"He is seen to have orchestrated Turnbull's downfall," says former Liberal Party member Julie Giannesini, who hosted the first gathering of the Coalition of Anti-Abbott Groups at her place in Mosman. Among those present was Rob Grant, the founder of a group called North Shore Environmental Stewards, who says Abbott is "actually quite a nice guy on a personal level. But he has lost the support of moderate Liberals."
When Abbott sought endorsement to stand again for Warringah at the 2019 election, almost a third of Liberal preselectors voted against him, despite the fact that he was standing unopposed. Grant, who has quit the party, believes Abbott deserves much of the blame for Australia's failure to develop a coherent climate-action strategy: he has played a major role in scuttling successive emission reduction schemes. "I've figured that the best thing I can do for my kids and my grandkids is get rid of Abbott," Grant says. "In one fell swoop, that changes the politics of the country. It's like taking the key piece out in a chess game."
Abbott and a team of volunteers in blue Team Tony T-shirts are working Forestville's open-air mall. T
he Team Tony people are handing out leaflets. Abbott is radiating blokey charm. "G'day! How are you? Good to see you!" he cries, and for every person who hurries past avoiding eye contact there is someone who stops to shake his hand and bathe in that once-was-prime-minister glow. I watch as a large fellow bounds up to him and says in a thick middle-European accent, "You are the best man in the world! You stopped the boats." The two pose for a photo together. The constituent is almost in tears. "I dream I meet you!" he tells Abbott.
Outside Old English Fish'N'Chips, a tired-looking couple and their three kids are waiting for a takeaway order. The father does his best to ward Abbott off: "We're very pro-renewable energy and anti-coal, so…" It doesn't work. Abbott lingers, keen to win them over. Resigned, the guy starts talking about the recent mass fish die-off in the Murray-Darling river system. "It's not good," agrees Abbott, his expression concerned. "But a lot of this stuff happens … naturally."
Turnbull's big mistake when he became party leader was to treat me like it was a successful hostile corporate takeover, where the minority shareholders were going to get screwed.

Tony Abbott
At another point, a middle-aged man says to him: "Warringah Road down here. Have you noticed how long it takes for the lights to change?" Abbott, the tunnel promoter, replies quick as lightning: "I've noticed how long it takes to get anywhere."
Bronwen Bowden has already met Abbott: they're both Rural Fire Service volunteers. After bumping into him in the mall, Bowden makes a quick trip to her nearby home and returns with a poster that says: "Warringah – We deserve better." She stands near Abbott and holds it high. A passing shopper says to her quietly: "You legend." While a child busker with a saxophone plays Somewhere over the Rainbow, I talk to Amr Marzouk, a Team Tony member who used to be Abbott's GP. "I'm here because he's a decent person," Marzouk says. "A very decent soul. He does a lot for people."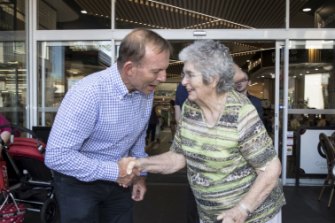 Over coffee with me and his staffer, Sam Jackson-Hope, Abbott doesn't rule out standing for the opposition leadership if the Coalition loses the election. "I'm here to serve," he says. For him, politics is not a career: "It's a vocation. It's a calling." I ask about the animosity between him and Turnbull, wondering whether it has waned now that his old nemesis has left parliament. "Certainly we've butted heads on numerous occasions over a number of different issues," Abbott says. He pauses. "But let's not forget I put him in my Cabinet. And he never returned the favour. Turnbull's big mistake when he became party leader was to treat me like it was a successful hostile corporate takeover, where the minority shareholders were going to get screwed."
Jackson-Hope sits very still. Abbott continues: "He should have said to me after the 2016 election, 'Tony, you're a former party leader, you're still in the parliament, you'd better come back into the Cabinet.' He never did that. It was absolutely crystal-clear that as long as he was the leader, I would never, ever, go anywhere near the Cabinet." Jackson-Hope murmurs: "It's history now." Abbott collects himself. "It's all history now," he agrees.
Zali Steggall smiles calmly and takes a sip of tea. S
he is sitting in the courtyard of her pleasant suburban home, taking a break between campaign engagements. Aged 44 and married with children, Steggall calls herself a "sensible centre" independent. While favouring business-friendly economic policy, she wants more effective climate strategy and more humane treatment of asylum seekers. She is articulate, photogenic and something of a local heroine. Born and bred in Manly, not normally noted for its alpine sports stars, she won both a world championship and an Olympic bronze medal in slalom skiing. A restaurant near the beachfront is named after her.
The Coalition of Anti-Abbott Groups' Julie Giannesini says it was an easy decision to endorse Steggall's candidacy. "A few people in the group met with her and said she was fabulous." Steggall says COAAG's backing has helped her launch a properly funded and organised campaign: "I wasn't going to do this out of my garage and pull it together on a shoestring, because that's just doomed to fail. You're up against a party machine." (To give Team Zali an injection of professional expertise, Steggall hired as campaign co-manager the political consultant Anthony Reed, a one-time Labor staffer with a proven record: he ran independent Kerryn Phelps' successful campaign in last year's by-election in the previously blue-ribbon Liberal seat of Wentworth, Warringah's neighbour across the harbour.)
Donations, along with emails and text messages from well-wishers, have poured in. Says Rob Grant, of North Shore Environmental Stewards: "I know there are Liberal supporters donating money either overtly or covertly, doing everything they can to see her succeed."
To Denise Wilton, a former independent mayor of Mosman, these developments are frankly amazing. "They'll never vote for Labor here," Wilton says. "They just can't do it. But people are saying, 'I could actually vote for an independent.' These are rusted-on Liberal voters. People who you'd think would rather change their wives or their religion than their vote."
GetUp! has swung into action in the electorate, holding a couple of standing-room-only meetings and recruiting 300 local volunteers to door-knock. Heritage consultant Graham Brooks, who attended one of the meetings, says it felt like a rally: "The commitment and the energy in that room were quite extraordinary."
To Brooks' wife, Cheryl, the crowd looked Liberal to the core: "The ladies beautifully dressed in their nice summer linens and their suitably elegant handbags and the Hermès scarves tied just so. I thought, 'Woah! This is fascinating.' "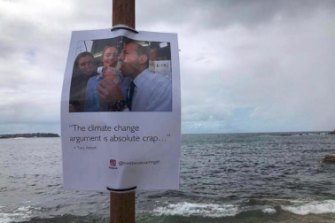 Independent polling analyst Andrew Catsaras believes Steggall has a red-hot chance of winning Warringah. Abbott is in "huge trouble", Catsaras says. The ABC's Antony Green is more circumspect, but says Abbott's hold on the seat will start slipping if his primary vote falls below 45 per cent. Green points to the 2013 federal election, in which independent Cathy McGowan beat Liberal incumbent Sophie Mirabella in the rural Victorian seat of Indi. Mirabella got 44.7 per cent of the primary vote, McGowan only 31.2 per cent, but with preferences McGowan got over the line.
"It's definitely going to be a battle," says Alex Dore, president of Manly Young Liberals and a member of the party's state executive. But to write Abbott off would be an enormous mistake, in his opinion. "Tony's campaign is very energised. There are hundreds of young people in the area campaigning for him." Dore says you only have to go to a pub with Abbott to realise how firmly entrenched he is in the community. Everyone knows him. Everyone wants to have a beer with him. So high is his recognition rating that, never mind traffic jams, even walking around the electorate can be difficult. "It takes you 40 minutes to go 50 metres with him on Manly Corso," Dore says. "Because everyone's stopping him to take photos."
Nick Scott gets stopped in public, too. When he climbs out of his dinosaur suit, he often slips into a "Time to Go Tony!" T-shirt, and he says it never fails to attract comment: "Every time I go shopping in Woolworths, for example, two or three people give me the thumbs-up and say, 'Great T-shirt. I'm with you.' " Like Scott, Think Twice Warringah's Daniel Moller is pleased and proud to be involved in the campaign. "I've loved every minute of it," he says. "And in the end, regardless of what happens, it's healthy, right? This is democracy."
To read more from Good Weekend magazine, visit our page at >The Sydney Morning Herald, >The Age and >Brisbane Times.